11/08/2022
30 June 2022: Asteroid Day
The big comeback of in-person Asteroid Day LIVE finally happened after a long 2 year hiatus! More than 40 experts, astronauts and scientists flew from all over the world to the Broadcasting Centre Europe's state of the art studio in Luxembourg to bring a 4 hour program packed with one sensational topic: asteroids!
This year Asteroid Day LIVE was hosted by Stuart Clark, Sabinije von Gaffake, astronaut Ron Garan, Maria MacNamara, Lisa Burke and Charles-Louis Machuron.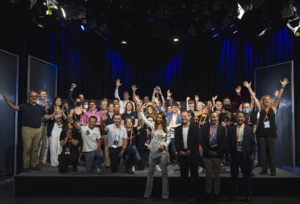 The theme of Asteroid Day 2022 was 'small and beautiful' where the experts looked into the smaller asteroids, technologies and samples which help answer some big questions. The panel discussions were centred around the topics of space resources and how we should use them, and the methods for utilizing and exploring space in a sustainable way.
Eric Tschirhart, Special Advisor to the Rector at UNIVERSEH European University, was in attendance of both Asteroid Day LIVE and Asteroid Day Gala following the main event.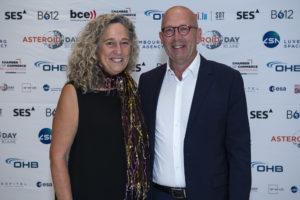 You can also watch the Asteroid Day Live on Youtube.
Download Asteroid Day brochure.