01/10/2022
30 September 2022: UNIVERSEH at the European Researchers' Night
Imagine 300 cities all over Europe, where on the same evening at the same time, researchers decided to meet the public to tell them who they are and what they do. This is the European Researchers' Night!
The European Researchers' Night aims to
bring research and researchers closer to the public
promote excellent research projects across Europe and beyond
increase the interest of young people in science and research careers
showcase the impact of researchers' work on people's daily lives
In Toulouse, more than 200 scientists from all disciplines gathered on Friday 30 September 2022, for a new edition placed under the sign of the unexpected. From mathematics to history, via medicine, chemistry, economics, life sciences or artificial intelligence, the goal is to arouse the public's curiosity and to exchange ideas on surprising projects. This year, the event took place in Cité de l'espace. UNIVERSEH and Beyond UNIVERSEH were indeed in the programme.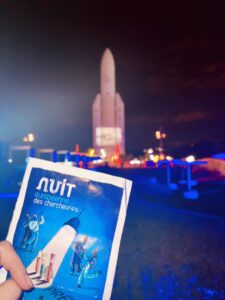 Have a look at the programme of European Researchers' Night
Portraits of woman were shown during the evening to highlight their inspiring work in the space sector: