03/10/2022
Space Semester "Sciences, ça tourne"
Location: Vauban, Ecole et Lycée français de Luxembourg 
The project, "Sciences, ça tourne", the title refers to the the French expression "Silence, ça tourne". In the same time, 'ça tourne' is accordant to the second-largest planet in the Solar System, Saturn.
The theme of this academic year at Lycée Vauban is astronomy. A rich programme of the project will give the opportunity to students from Lycée Vauban and students involved in UNIVERSEH project, throughout the academic year, to participate in various activities around astronomy. Six conferences on topics from spacecraft insurance to space medicine, an exhibition dedicated to 60 years of CNES, workshops and other surprises will be offered in the programme of this 'Space' semester!
Save the dates! Dates of conferences at the Amphitheatre of Lycée Vauban:   
09/11/2022        Jean-Pol Frippiat, Université de Lorraine – watch online streaming of the conference
30/11/2022        Claudie HAIGNERE, Astronaute CNES
14/12/2022        Olivier FRANCIS, Université du Luxembourg – REGISTER HERE
25/01/2023        Denis BOUSQUET, AXA XL, Paris
07/02/2023        Patrick BAUDRY, Astronaute CNES
02/03/2023        Nicolas PETIT, MINES ParisTech
29/03/2023        Christophe Ley, Université du Luxembourg & Guenda Palmirotta, European Space Agency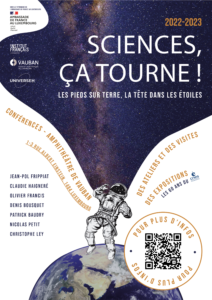 More information will follow. Stay tuned!