Testimonial #1
Florent Gourlaouen
Participated in the Diversity Conference 'Redefining Space(s)'

at the Heinrich-Heine-Universität Düsseldorf (19-23 June 2023)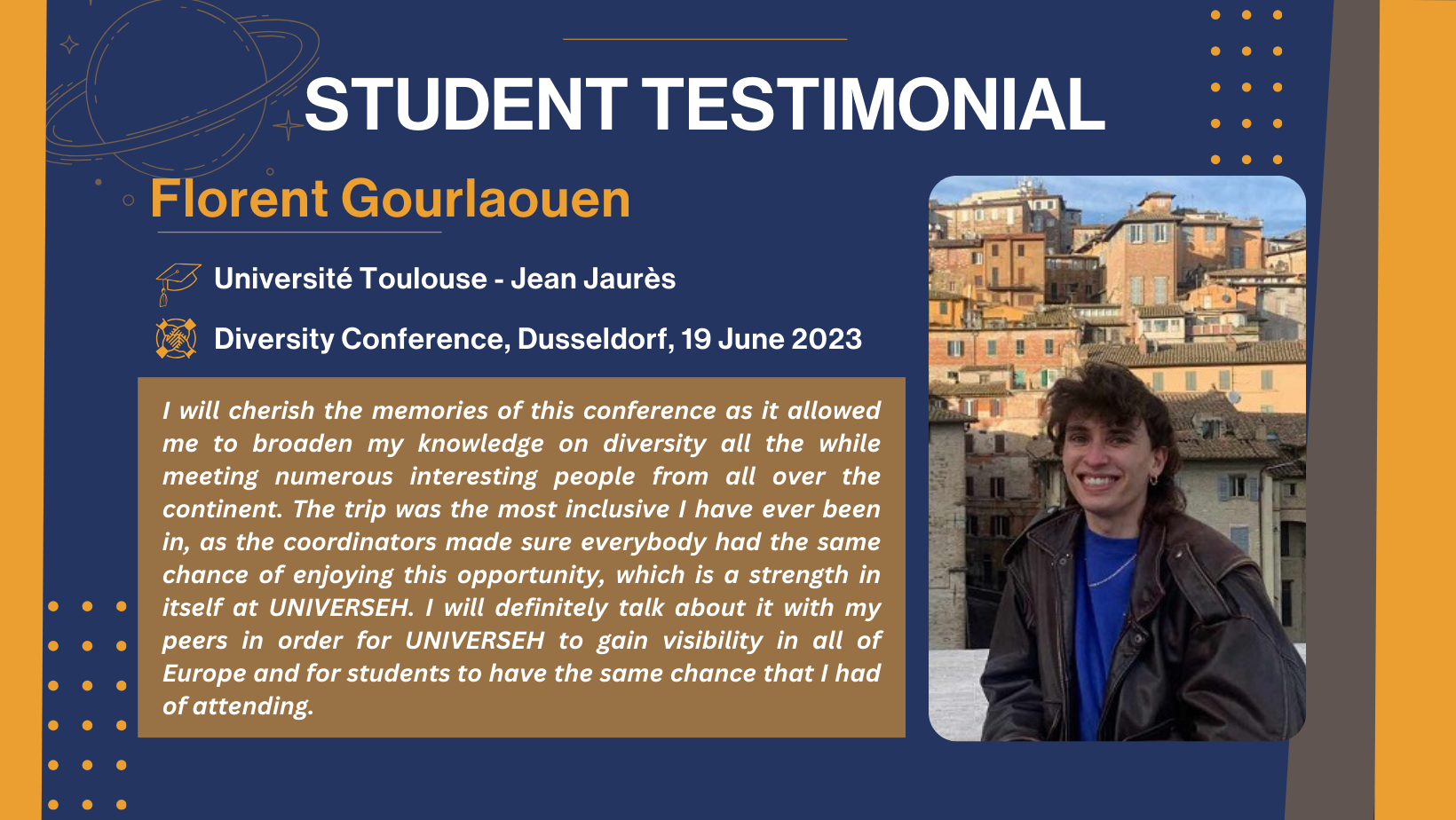 UNIVERSEH Diversity Conference: an event to remember
"I attended the UNIVERSEH Diversity Conference in Düsseldorf on June 19, 2023, and I must say I do not regret attending. First, it is worth mentioning that being enrolled in a Master of English Studies at the University of Toulouse II, I did not have any specific background in space studies. Yet, the various speakers at the conference made sure the information that was provided was accessible to anyone. The various topics on diversity, inclusivity and intersectionality were eye-opening and fascinating. Even though my research centres on such topics, I still learned new concepts and notions because of the speakers' innovative ways of gathering knowledge and enabling critical thinking. The World Café that took place in the afternoon was a great way to discuss personal situations regarding diversity in our own countries and universities, which made me realize my own place in the broader European education systems. This kind of contact with students from all over the continent remains one of my best memories of the conference because it was an opportunity to foster meaningful conversations and broaden our understanding of other people. 
I must applaud the speakers' enthusiasm and their proximity to the public, which transformed the conference into an ongoing dialogue between them and the students. The presentations were great as they sometimes involved questions and stories that included the public in HHU's and UNIVERSEH's fight for an inclusive university. Yet, this proximity did not end when the conference did. Indeed, I certainly loved the moment we all got to share after the conference under the Düsseldorf sun of the campus lounge. It allowed students to interact in yet another setting, but also to talk with the numerous coordinators and thank them for this opportunity. 
If there was one thing that could be enhanced for next year, I think it would probably be access to the WhatsApp group chats. Indeed, some students including myself were not aware that some group chats existed until the end of the conference. For next year, maybe there could be a way to gather all the group chats' QR codes in advance and send them in a grouped email prior to the conference, for example. Yet, this did not alter my experience at all, as solidarity was the priority between the students and communication was always possible no matter what.
All in all, I will cherish the memories of this conference as it allowed me to broaden my knowledge on diversity all the while meeting numerous interesting people from all over the continent. The trip was the most inclusive I have ever been in, as the coordinators made sure everybody had the same chance of enjoying this opportunity, which is a strength in itself at UNIVERSEH. I will definitely talk about it with my peers in order for UNIVERSEH to gain visibility in all of Europe and for students to have the same chance that I had of attending."
Testimonial #2
Cleche Boukono
Participated in the Diversity Conference 'Redefining Space(s)'

at the Heinrich-Heine-Universität Düsseldorf (19-23 June 2023)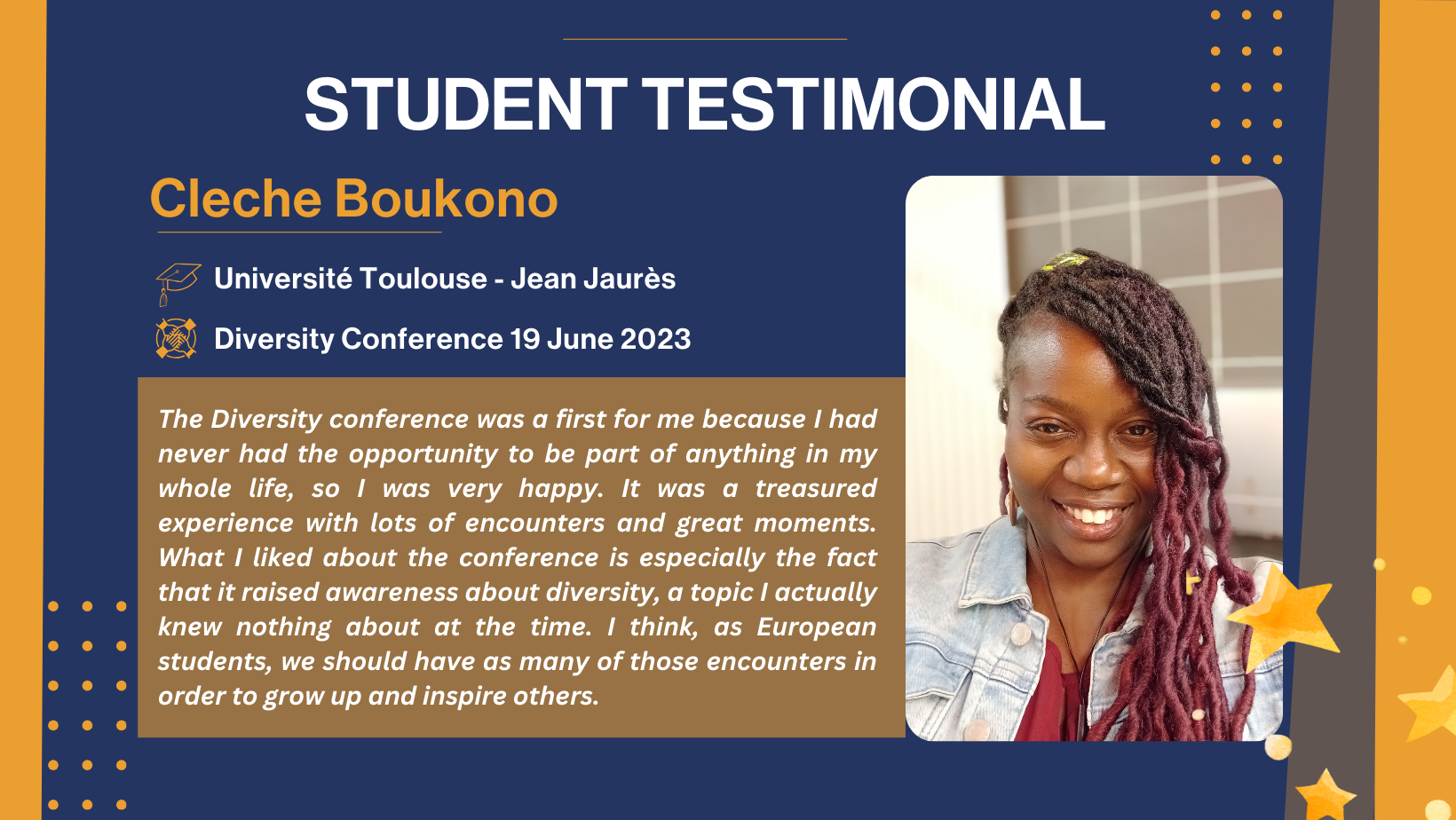 "The Diversity conference was a first for me because I had never had the opportunity to be part of anything in my whole life, so I was very happy. It was a treasured experience with lots of encounters and great moments. What I liked about the conference is especially the fact that it raised awareness about diversity, a topic I actually knew nothing about at the time. I think, as European students, we should have as many of those encounters in order to grow up and inspire others."
Testimonial #3
Eghosa Ben Eribo
Participated in the Arctic Winter School, Luleå University of Technology, Kiruna Campus (27 February – 4 March 2023)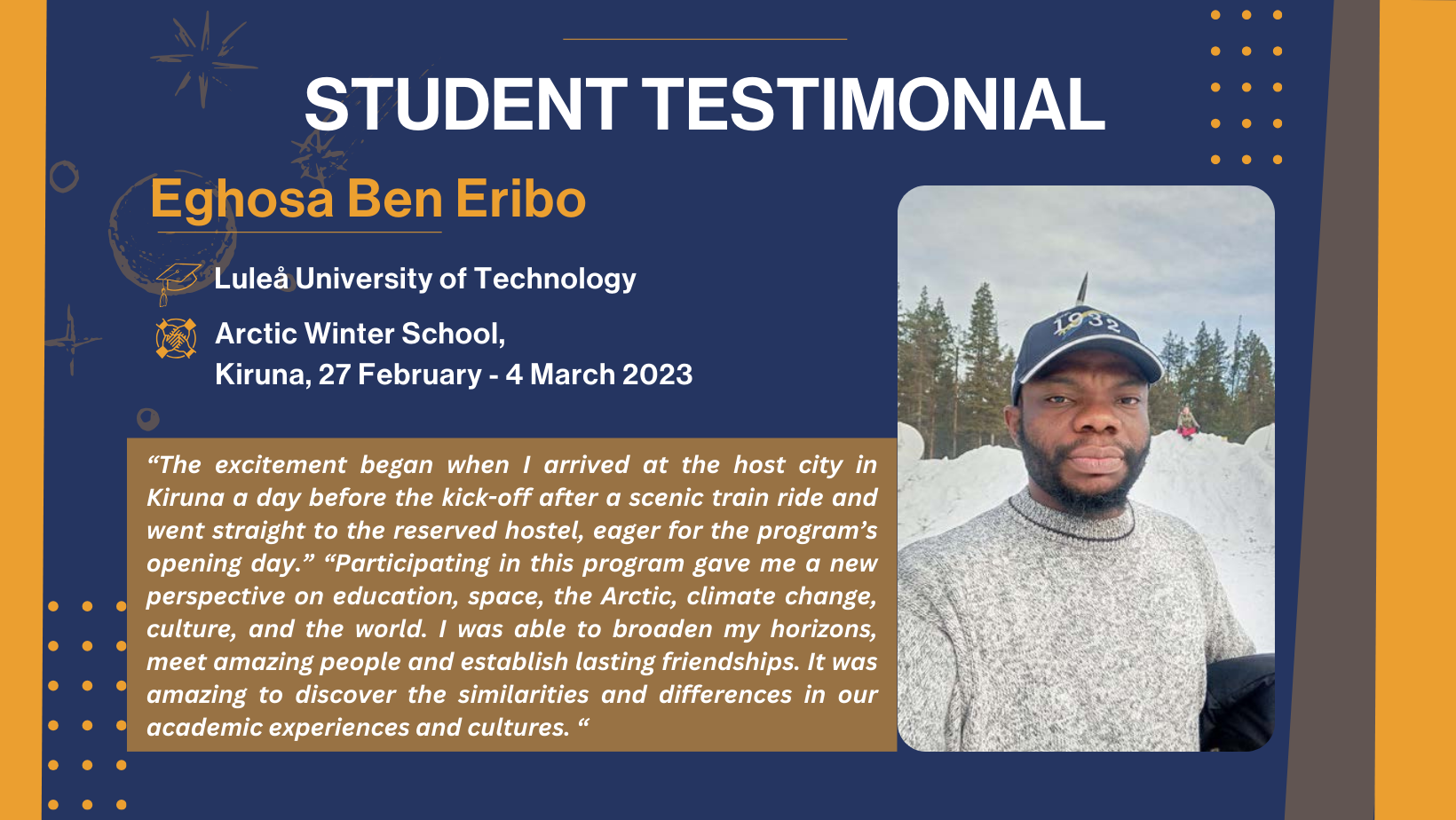 Discovering New Horizons: My Experience in a Student Mobility Program
"I had the pleasure of taking part in a one-week student mobility program organised by the UNIVERSEH alliance. The excitement began when I arrived at the host city in Kiruna a day before the kick-off after a scenic train ride and went straight to the reserved hostel, eager for the program's opening day. It was like waiting for the best part of my life to begin, and I couldn't wait. It was precisely 8:00 am on the opening day while having breakfast in the Hotel Restaurant when I heard the sound from the bus's horn designated to take participants to Luleå Tekniska Universitet (LTU campus in Kiruna), the venue of the opening lecture. There was a flash of a smile on my face as well as anxiety because I had waited for this day to come. The program brought together students from diverse backgrounds and cultures, giving us a unique opportunity to learn from one another. I was fascinated to meet students from France, Luxembourg, Poland, Germany, Sweden, and of course Nigeria, my home country. 
It was amazing to discover the similarities and differences in our academic experiences and cultures.  One of the program's highlights was the group activities, which allowed us to work together and learn from each other as participants comprised of students from various academic backgrounds like Law, Biomaterials, Aerospace Engineering, Physics, Architectural Engineering, International Business, etc. We visited the famous Esrange space center and took a tour of the facilities, workstations, and part of the setup, with the tour guides giving us detailed accounts of what goes on in the Esrange center. We learned about the technology behind stratospheric balloons and Nanosatellites, and we saw some balloons though from a distance. 
We took a walk to some local landmarks and learned about other cultural heritage sites, and we were also privy to seeing the various space labs on the LTU campus and were briefed about each of the labs and what tests were being done in the lab. We visited LKAB, one of the largest world-famous mining centers, and went up to 540 feet below the earth. I had the rare privilege to interview some staff and students who expressed great pleasure in learning new things, understanding how space works, and exploring possible opportunities available in the space industry. I also talked with the indigenous people, the Sami, who are mainly into hunting and moving with their reindeer. They gave me an insight into social issues as it relates to space, climate change, and other economic and environmental issues affecting them as reindeer herders and how they are being tackled in collaborations with the mining companies and other educational interest groups like the UNIVERSEH alliance mobility program. 
Participating in this program gave me a new perspective on education, space, the Arctic, climate change, culture, and the world. I was able to broaden my horizons, meet amazing people and establish lasting friendships. I strongly commend the organisers of this mobility program and the staff that coordinated the program; they were super amazing humans ensuring that everyone was in a good state of mind and great spirit. Looking back, there are a few aspects of the program that I feel could be improved. For instance, the program could be extended to a longer duration to allow for more in-depth immersion into the host culture and academic system. Additionally, there could be more structured activities that encourage interaction between local students and visiting students, fostering lasting relationships and promoting cultural exchange. Finally, there could be more emphasis on addressing global issues and their impact on different regions of the world.
In conclusion, I believe that participating in a student mobility program is a life-changing experience that all students should consider. It provides a unique opportunity to learn, grow and expand your horizons. I am grateful for this experience and hope my reflection and experience will encourage other students to participate in such programs."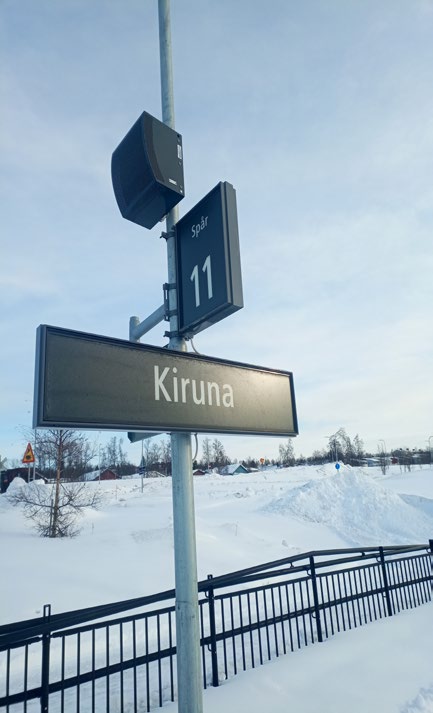 Testimonial #3.1
Diversity Conference 'Redefining Space(s)'

at the Heinrich-Heine-Universität Düsseldorf (19-23 June 2023)
"There I was, standing amidst a group of vibrant minds from across the globe, all gathered under one roof at the UNIVERSEH Diversity Conference in HHU Düsseldorf. The air was charged with excitement and anticipation as we embarked on a transformative journey, exploring the realms of Equity, Inclusion, and Diversity. This blog post serves as a testament to the captivating experiences and invaluable insights gained during this remarkable event.
A Tapestry of Perspectives:
UNIVERSEH, with its unwavering commitment to promoting diversity and inclusion, provided a platform that transcended cultural boundaries, inviting individuals from various backgrounds to come together and listen, learn, and celebrate our shared humanity. The conference was a tapestry of perspectives, where individuals from diverse ethnicities, nationalities, and experiences exchanged ideas, fostered connections, and enriched each other's understanding of diversity, inclusion, and equity.
The heart of the UNIVERSEH Diversity Conference lay in its thought-provoking discussions and immersive sessions where students were grouped to discuss ways in which diversity can be improved within and outside the university. Intelligent speakers and leaders graced the stage, shedding light on the importance of diversity, equity, and inclusion in today's rapidly evolving world. From the front podium presentations to interactive discussions among participants, each session left a profound impact, empowering us with the knowledge and tools to actively champion change in our respective communities.
One of the highlights of the conference was the series of inspiring presentations on each topic delivered by the lead speaker and also the style with which the participants had 3 different circle tables with distinguished and diverse students who gave their individual opinions on issues that bother discrimination, bias, integration, diversity, and inclusion. These luminaries not only shared their journeys but also imparted valuable wisdom, igniting a fire within each one of us to take action and make a difference. Their stories resonated deeply, reminding us that every voice has the power to shape a more equitable and diverse future.
UNIVERSEH's commitment to educational support has been particularly remarkable in the past years. Through a range of initiatives, such as conferences, language cafes, summer school programs, and educational workshops, UNIVERSEH has demonstrated its dedication to nurturing the leaders of tomorrow. The organization's unwavering support for students, regardless of their socio-economic backgrounds or geographical locations, is a testament to their belief in the power of education to unlock individual potential and drive societal progress.
One of the most rewarding aspects of the conference was the opportunity to collaborate with like-minded individuals who shared a common vision of a more inclusive world. Through engaging conversations and interactive group activities, we fostered meaningful connections, laying the foundation for future collaborations that will transcend borders and create positive change on a global scale. UNIVERSEH provided the fertile ground upon which these relationships could flourish, reminding us of the strength that lies in unity.
Looking Ahead:
As I reflect on my experience at the UNIVERSEH Diversity Conference, I am filled with excitement for the future. I am eager to witness the impact that the UNIVERSEH community will have as we continue to champion diversity and inclusion, breaking down barriers and cultivating spaces where every individual can thrive. I invite my fellow students to join us in this transformative journey, embracing the activities and opportunities offered by UNIVERSEH, and together, let us build a world where equity, diversity, and inclusion are celebrated and cherished."
Testimonial #4
Meery
Participated at the Diversity Conference 'Redefining Space(s)'

at the Heinrich-Heine-Universität Düsseldorf (19-23 June 2023)
Ahoy science adventure! 
"From June 18th to 20th, I had the opportunity to stay in Dusseldorf (Germany), due to the Diversity Conference organized by UNIVERSEH and Heinrich Heine University. The conference took place on Monday (June 19th), and its theoretical part focused on discrimination, unconscious biases, and equality in relation to space. The whole event was a great initiative. Did you know that each of us thinks stereotypically in some way, but the key is to be aware of it and not let it influence our actions?
When it comes to the practical part of the conference, it was organized in the form of a World Café workshop which allowed us to meet other conference participants (from countries such as France, Spain, Germany, Sweden, and Ukraine) and exchange views. This greatly broadened the perspective on issues of exclusion and social discrimination. After sharing experiences and listening to the stories of others about instances of intolerance at their universities, I have come to the conclusion that there is a strong need for mandatory courses on anti-discrimination topics, especially in technical universities, where students are often not as sensitive to equality issues as social science students. What's more, I believe that participating in such international conferences also adds courage to take further steps related to student mobility such as attending summer schools or participating in the Erasmus program. It also provides an opportunity to test and improve English language skills.
In addition to the time spent at the HHU, we also had some free time, which allowed us to explore the culture of the country/city we were in. What I will remember from Dusseldorf are friendly ducks in the park, the Japanese district and the remarkable observation tower. My trip to Dusseldorf was smooth with no major disruptions, even though I had over 1000 km to go. The flights were calm, and reaching our destination didn't pose significant problems, as we had someone from Poland with us who had been to HHU before. I don't know how it would have been without his support, but I suspect that with today's technology like GPS, we would have managed as well. The only problem we encountered was checking in at the hostel. If the project coordinator hadn't joined us, we might not have been accommodated. Therefore, I think that it is essential to have someone from the management join the group of conference participants at the beginning. It also helped us acclimate to the new environment. Kate was available by phone at all times in case of any problems, so we had nothing to worry about – we were safe and in good spirits, ready for the upcoming adventure.
It's worth mentioning that before the whole trip, I was a bit concerned about my health because I was undergoing anticoagulant treatment. However, I visited my doctor, who assessed my health condition and allowed me to travel, and everything was fine afterwards. I recommend everyone who has any health concerns to have a pre-travel consultation with a doctor.

Finally, I'm very pleased to have had the opportunity to participate in this initiative, and I will definitely choose such a "scientific journey" again. It isn't worth limiting yourself to your country, because today's science is global, and interesting people live in different parts of the world."
Testimonial #5
Bryan Chen
Participated at the Diversity Conference 'Redefining Space(s)'

at the Heinrich-Heine-Universität Düsseldorf (19-23 June 2023)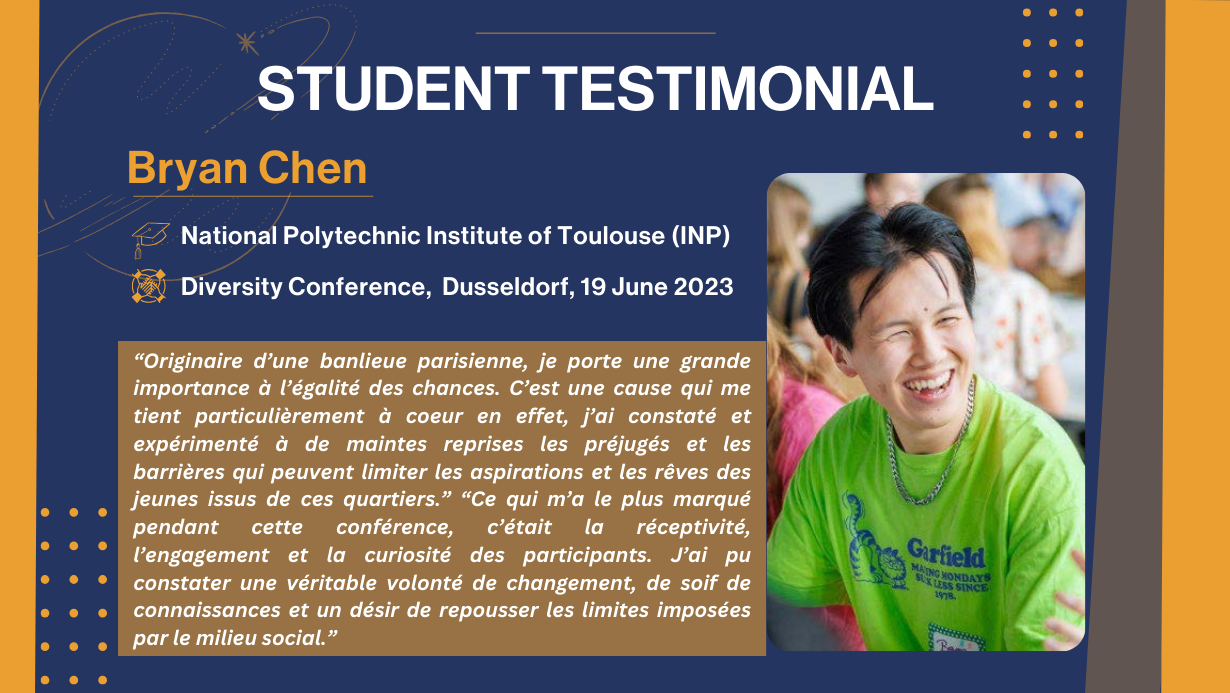 Diversity Conference, projet UNIVERSEH, expérience de Bryan Chen
"I'm Bryan CHEN, a student at ENSEEIHT in Toulouse, specializing in HPC and Big Data. I come from the Paris suburb of Bobigny, where I began my studies and obtained my scientific baccalaureate. I continued my studies with a "classe préparatoire aux grandes écoles" at the CPGE Charlemagne, in Paris IV ème arrondissement, and then entered the ENSEEIHT, in Digital Sciences.
Coming from a Parisian suburb, I attach great importance to equal opportunities. It's a cause that's particularly close to my heart, as I've seen and experienced time and again the prejudices and barriers that can limit the aspirations and dreams of young people from these neighbourhoods. 
The conference took place in a dynamic and warm atmosphere and was very interesting on all levels, socially, individually and intellectually. I met people with very interesting stories to share and was inspired by the many enriching discussions with the students. I also learned a lot about our unconscious biases and how to integrate an inclusive culture. 
What struck me most during the conference was the participants' receptiveness, commitment and curiosity. I could see a real desire for change, a thirst for knowledge and a desire to push back the limits imposed by the social environment."
(IN FRENCH)
"Je suis Bryan CHEN, étudiant à l'ENSEEIHT de Toulouse, en Sciences du Numérique et spécialisé en HPC et Big Data. Je viens de la banlieue parisienne – Bobigny – du 93, où j'y ai commencé mes études et j'y ai obtenu mon baccalauréat scientifique. J'ai poursuivi mes études avec une classe préparatoire aux grandes écoles à la CPGE Charlemagne, à Paris IV ème arrondissement, et puis j'ai intégré l'ENSEEIHT, en Sciences du Numérique.
Pourquoi s'intéresser à la conférence ? 
Originaire d'une banlieue parisienne, je porte une grande importance à l'égalité des chances. C'est une cause qui me tient particulièrement à cœur en effet, j'ai constaté et expérimenté à de maintes reprises les préjugés et les barrières qui peuvent limiter les aspirations et les rêves des jeunes issus de ces quartiers. 
Comment s'est-elle déroulée et qu'est-ce que j'en ai retenu ?
La conférence s'est déroulée dans une atmosphère dynamique et chaleureuse, elle était très intéressante à tous les niveaux, socialement, individuellement et intellectuellement. J'ai rencontré des personnes avec tous, une histoire très intéressante à partager et j'ai été inspiré par les nombreuses discussions enrichissantes avec les étudiants. J'ai également beaucoup appris sur nos biais inconscients et sur la manière d'intégrer une culture inclusive. 
Ce qui m'a le plus marqué pendant cette conférence, c'était la réceptivité, l'engagement et la curiosité des participants. J'ai pu constater une véritable volonté de changement, de soif de connaissances et un désir de repousser les limites imposées par le milieu social."
Testimonial #6
Anonymous
Participated in the Arctic Winter School, Luleå University of Technology, Kiruna Campus (27 February – 4 March)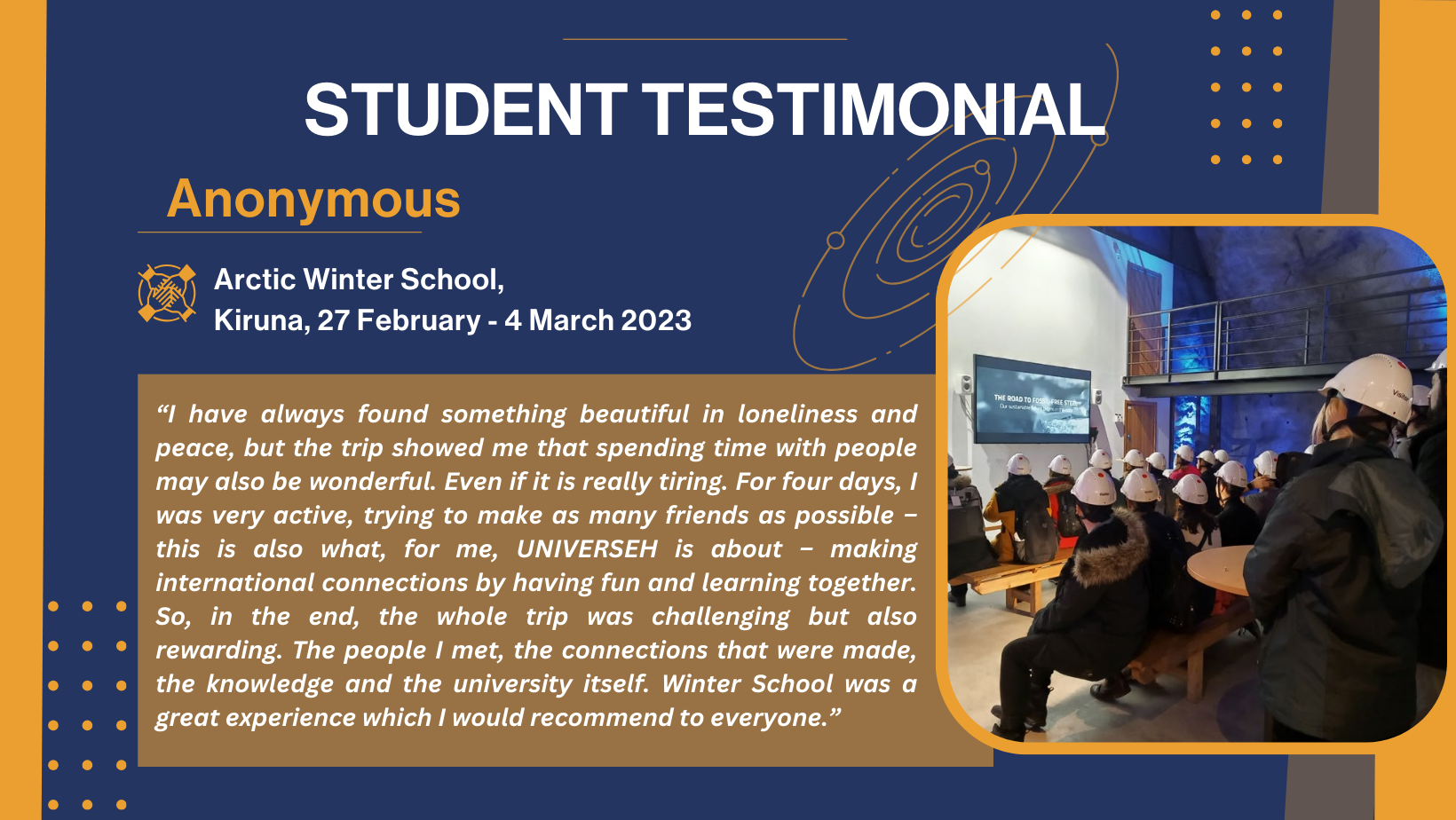 Winter School and my experience 
"The trip to Kiruna was quite long due to the change in Stockholm. The Swedish airlines were expensive, but at least some water or coffee was provided. When I arrived at the bus stop, my friend from Germany was there to help me find the hostel. We all stayed in a great place with a great atmosphere, tasty food, and a warm sauna. The whole Kiruna was beautiful, and I couldn't stop thinking about staying there for longer.
I have always found something beautiful in loneliness and peace, but the trip showed me that spending time with people may also be wonderful. Even if it is really tiring. For four days, I was very active, trying to make as many friends as possible – this is also what, for me, UNIVERSEH is about – making international connections by having fun and learning together. But sometimes it becomes overwhelming – how much noise people talk generates and how much movement there is, not speaking about the amount of information. There were lots of interesting people's stories, cultural differences and of course the university lectures.  
The whole day was packed with plans, meetings, and working in groups which was simply too much for me for a more extended period of time. The organisers were helpful when it came to dealing with a crisis – when it turned out we could not go to Abisko because of the weather, they did their utmost to help us find accommodation. There was also the possibility of not changing the hostel, which was a very psychologically comfortable option – having something you didn't need to change when everything else was a challenge. When I didn't participate in one day's plans, nobody judged me; nobody pressed me. There was no obligation to go if one started to feel bad. People were considerate. That was also something that I really appreciated. 
For me, the most important thing in UNIVERSEH is to have fun. So, in the end, the whole trip was challenging but also rewarding. The people I met, the connections that were made, the knowledge and the university itself. Winter School was a great experience which I would recommend to everyone."